Applications are due annually by September 1st and are reviewed each year at the Annual Meeting.
Why Join WSA
The Western Surgical Association is dedicated to the cultivation, promotion, and diffusion of the art and science of surgery, to the sponsorship and maintenance of the highest standards of practice, and to the deliver the best possible care for the public.
Annual Meeting
Join over 250 attendees at beautiful western resorts for the WSA Annual Meeting every November. The Annual Meeting features a Presidential Address, Nonie Lowry Oration, a special session, 36 podium presentations, video and ePoster sessions. The flexible meeting scheudles allows time for you to enjoy the resort, and indulge in golf or other local attractions.
Journal of the American College of Surgeons
WSA is proud to feature the Journal of the American College of Surgeons as its official scientific publication. An annual subscription is covered in your dues.
Member-Only Directory
WSA is one of the premier surgical societies in the United States. Membership in the WSA provides a great opportunity to practice lifelong learning and network with surgical giants. The Member-Only Directory provides access to more than 700 WSA members around the country.
Representation
WSA has representatives on the American Board of Surgery and both the American College of Surgeons Board of Governors and Advisory Council for General Surgery.
Who We Are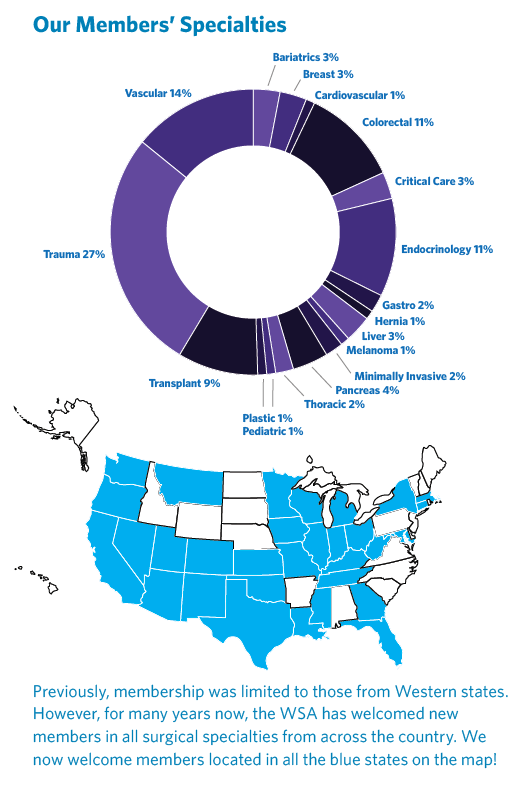 Membership Eligibility
Graduate of an accredited medical school and completed formal residency training
Must be board certified in his or her specialty
Demonstrate an established excellent reputation as a surgeon
Membership shall not be denied because of race, creed, color, or sex. Under special circumstances, renowned surgeons not meeting the above requirements may be granted members
Membership Application Checklist
Copy of your CV
1 WSA Member Sponsor (Letter of Recommendation required*)
1 WSA Member Endorser (Letter of Recommendation required*)
*Letters of Recommendation may be uploaded upon submission, or emailed separately to wsa@lp-etc.com
* indicates required field